Oops.... I'm late again. I should have posted this last Thursday - I wonder how long I can used the excuse that I'm pregnant for being too tired to post in the evening. Goal for next month: post the day or so before. Let's hope I don't forget ;)
So, I really didn't get any of my projects finished for this month....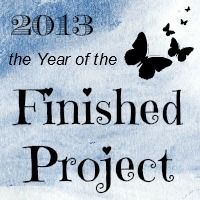 But in fact, I got distracted with little projects that are quick to knit. I just got bored knitting the one colour and garter st, so the Shalom just sat there. I still have to find the pattern to sew up and felt those slippers, but I did a few rows of Annabell.
Here is a hat I knitted for Katie from Tiny Owl knits. This wool is very stretchy and the hat is already starting to lose it shape. I haven't sewn the antlers on yet. I'm afraid that the wool is too floppy and the antlers are just going to droop like the ears are doing. So, I'm going to have to go get some other brown yarn when I go down the mountains next. Otherwise, Katie loved it. In the first photo she is holding the antlers in place.
Here is my Annabell cardigan that I tried to finished. I only got a bit of one sleeve done.
But, I have been busy knitting two Pebble vests - one in yellow and this one in an off white. I love this pattern - it sooooo quick and easy and it is a freebie off Ravelry. I'm also knitting a baby Raglan cardigan but the pattern is driving me nuts. It looked easy but is not well written. I have frogged it once and am going to do it again - I think I might leave it. I'm also knitting another vest in the round, which is taking me longer on 3mm needles. Let's hope I get it finished before the baby comes ;)