I joined the Year of the Finished Project that Lynne is hosting on her blog this year. I have a bad habit of starting projects and then leaving them for a long time. Hopefully, joining will help me get some projects finished this year. My blog lacked knitting projects last year, so I'm trying to motivate myself to get things done.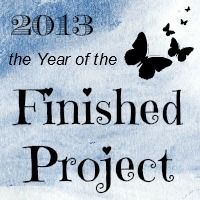 Starting with this cardigan that I started late last year....
I misplaced my double pointed needles to finished the sleeves. I forgot that I had put them in the glove box of my partner's car when we were going to my folk's place as I was knitting during the car trip. A couple of months later Katie found them when she was looking for something else. Lucky because I almost bit the bullet and bought another set, but I knew they would turn up eventually.